2015 Firm Owner's Executive Conference
This week was NCRA's annual Firm Owner's Executive Conference. This is an event where court reporting firm owners all gather to network and trade stories about the industry as well as meet cool vendors and hear from great speakers. This year it was held in Southern California so I was compelled to attend the event which was in Palm Desert, California, just about an hour from my office. I'm glad I did.

NCRA knows how to put on an event. First they chose an excellent venue to host the conference. The JW Marriott Desert Springs Resort & Spa is an astonishingly beautiful resort. Check out this front lobby area: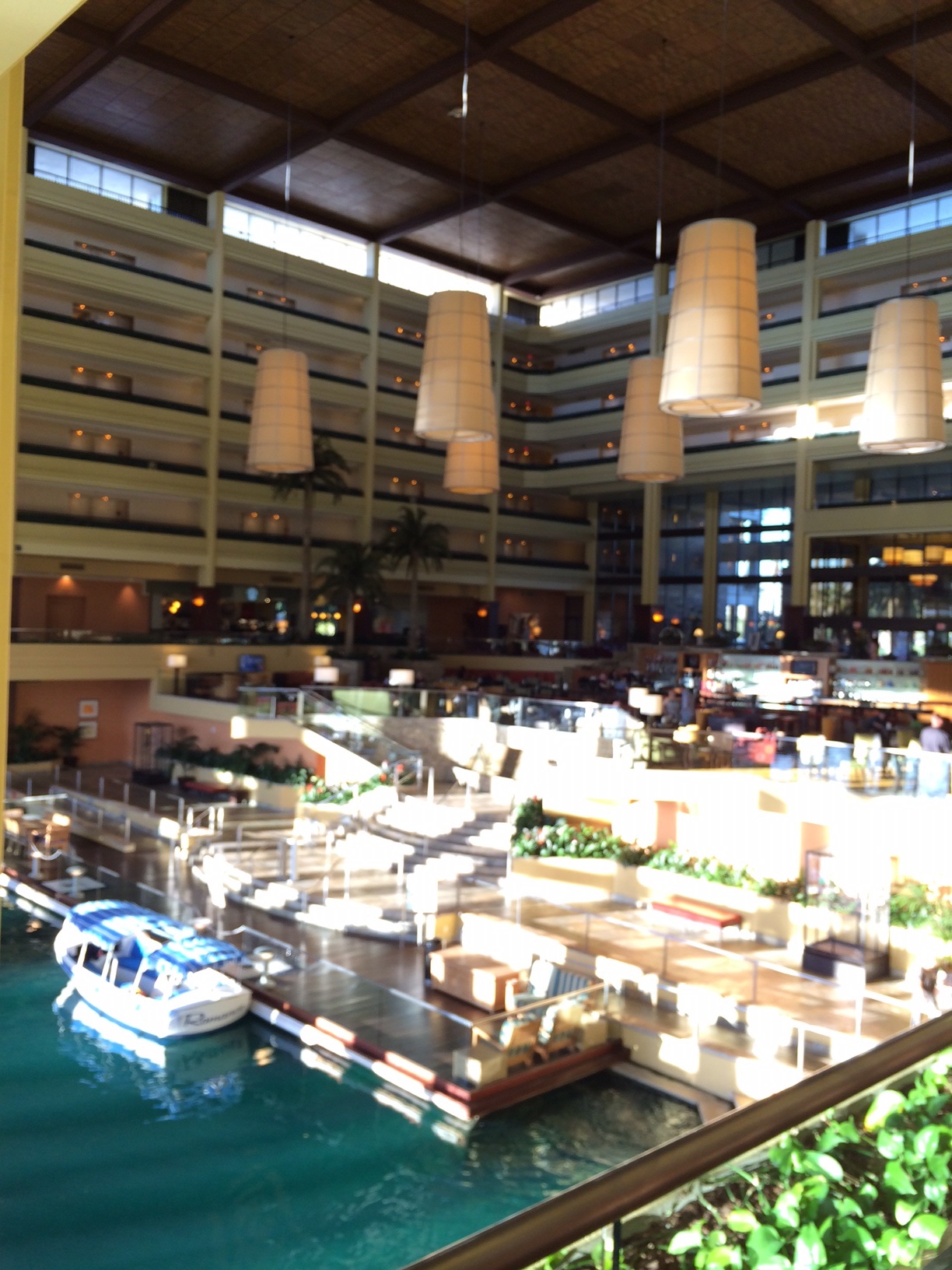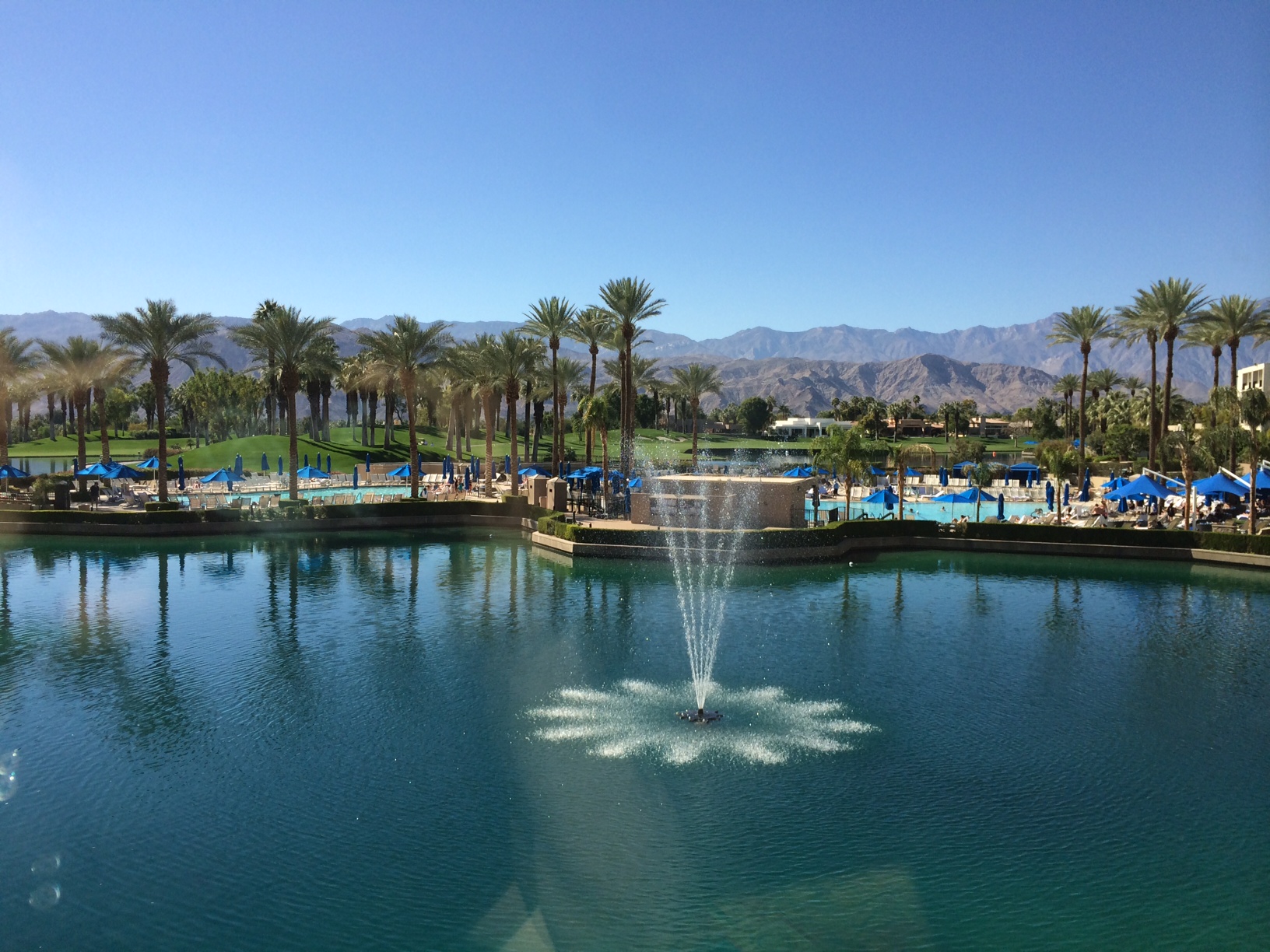 (It sort of reminded me of the set of Charlie and the Chocolate Factory. Instead of candy cane furniture and a chocolate river, though, there was a sushi bar and a gondola ride. But I digest digress.)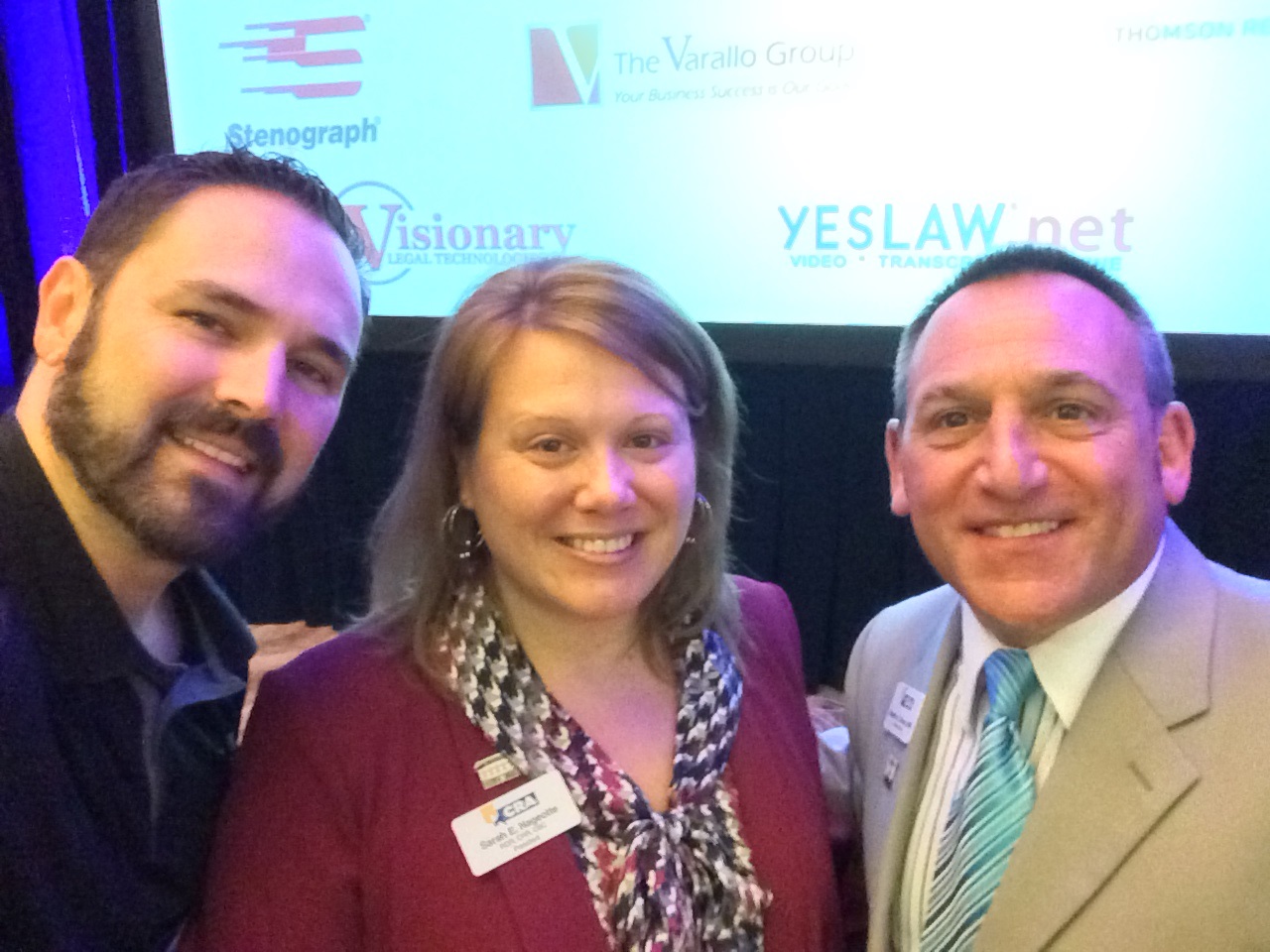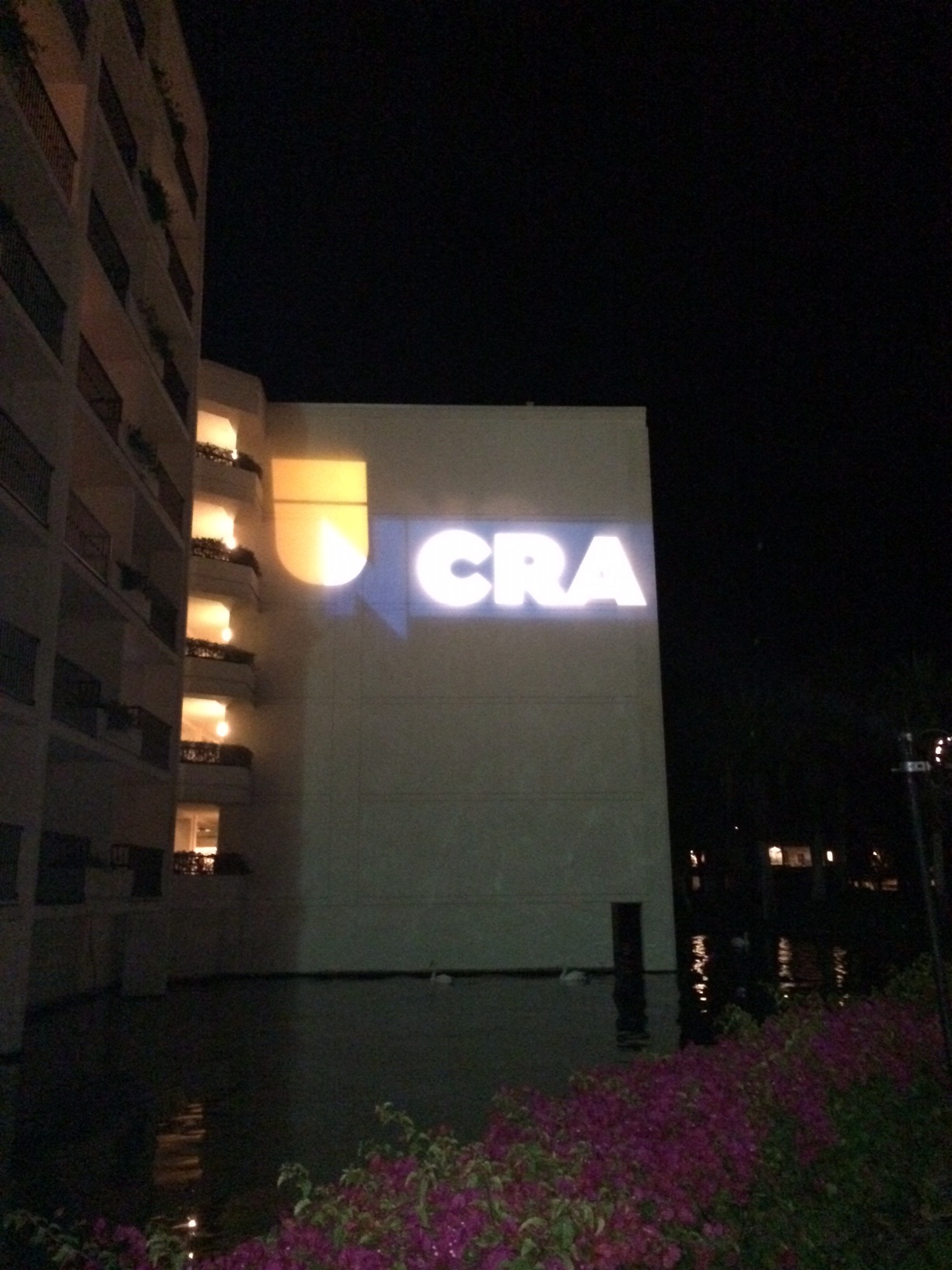 (Todd Olivas, NCRA President Sarah Nageotte, President-elect Stephen Zinone)

The opening mixer was held outdoors. And thanks to some great sponsors the "hors d'oeuvres" were more like full blown entre meals. I had three -- one, two, three! -- helpings at the risotto bar. Indeed, there was a risotta bar, a salmon bar, a pizza bar, a pork & gravy & beef brisket bar, a dessert bar, a salad bar, another dessert bar, and -- of course -- a bar bar.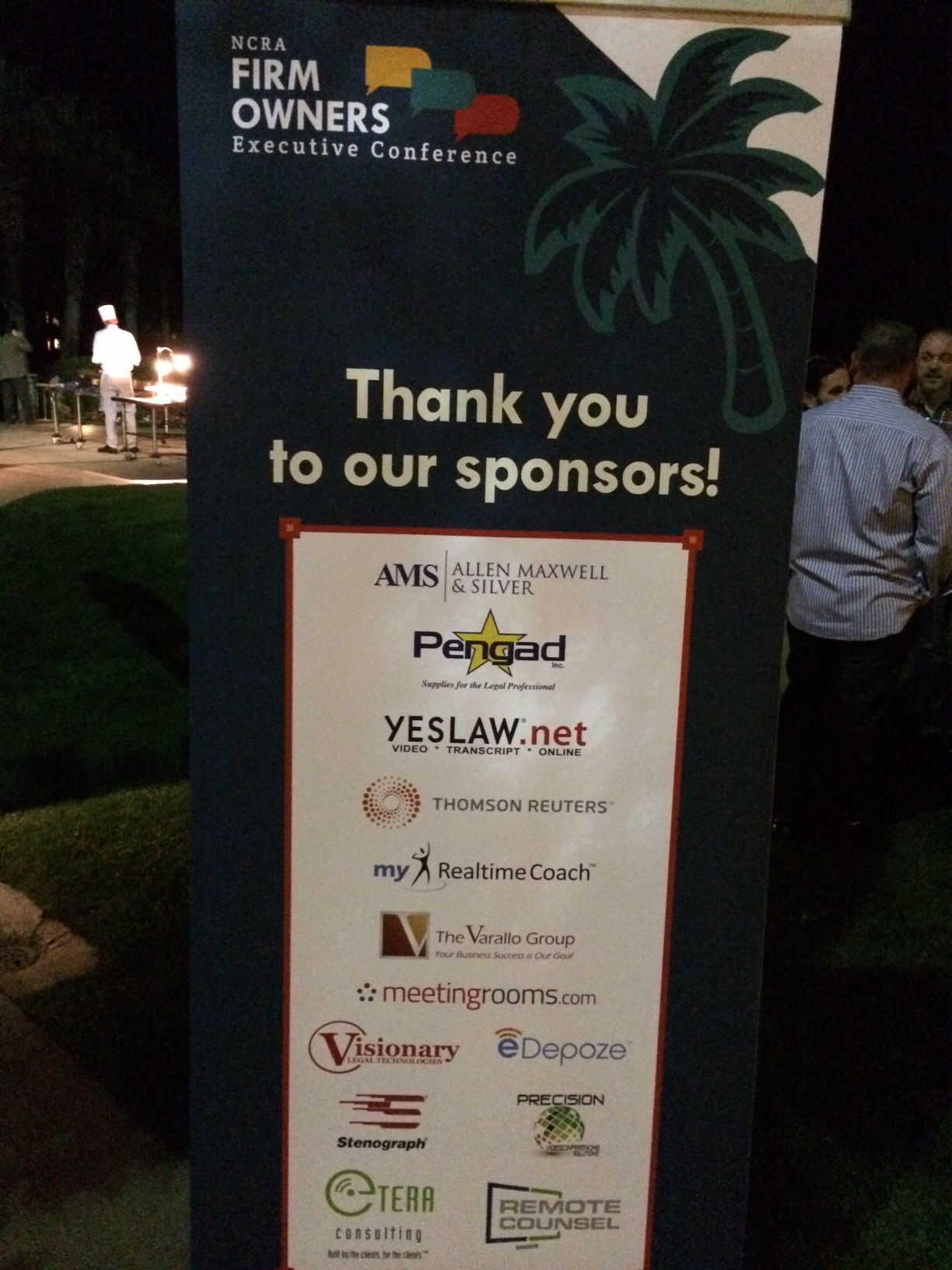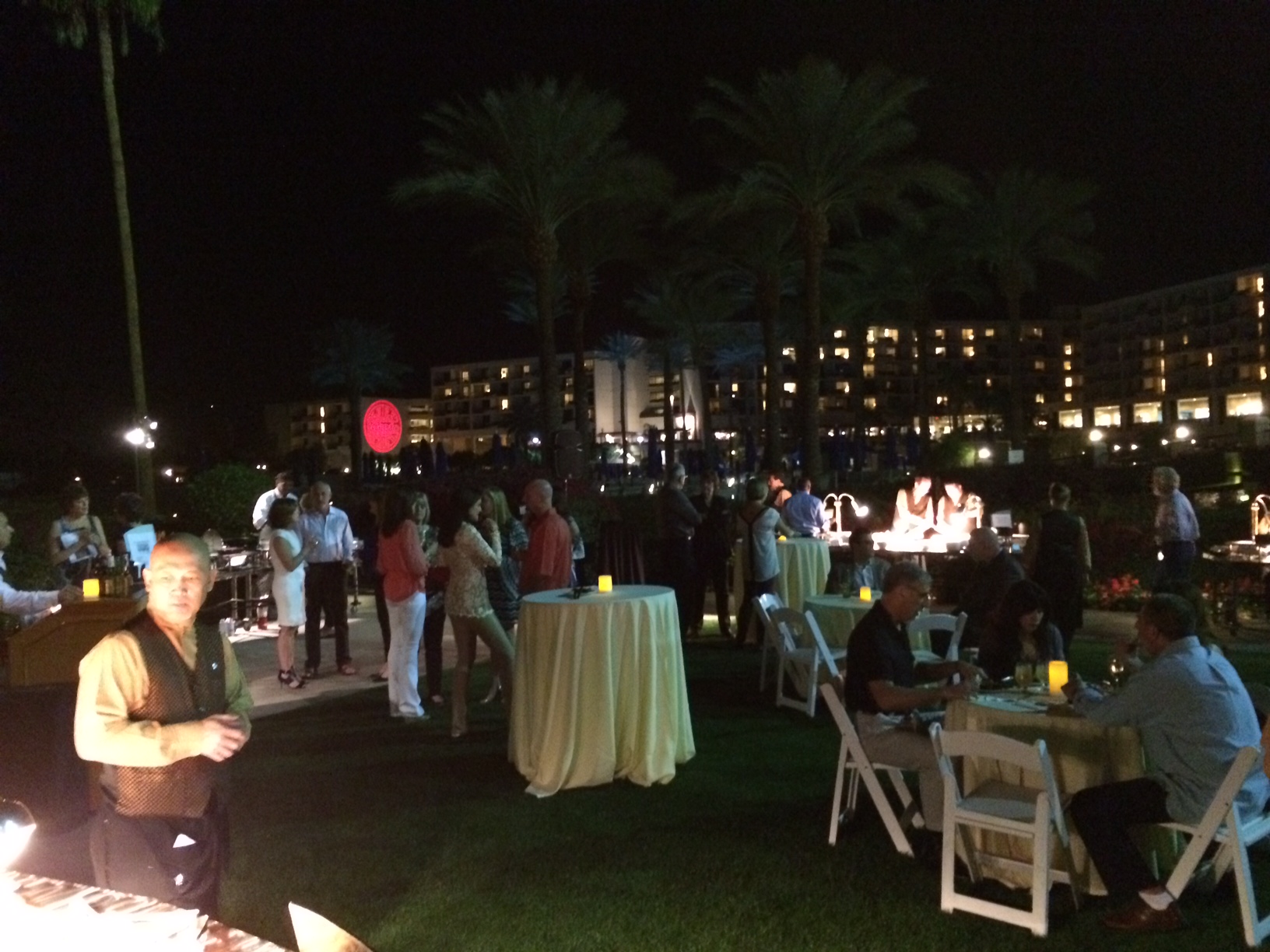 The conference hall was large and comfortable with loads of networking type moments thanks to the main presenter, Sarah Michel. Sarah coined a term called "NetWORTHing" which she describes as the new way to network in the 21st century. Rather than seeing a database of names and companies as stepping stones to your success, if you think of each person's individual needs and get creative with how you can help them first, then you build trust and become a powerful advocate and thus grow your own social capital and influence. Then business naturally flows out of that.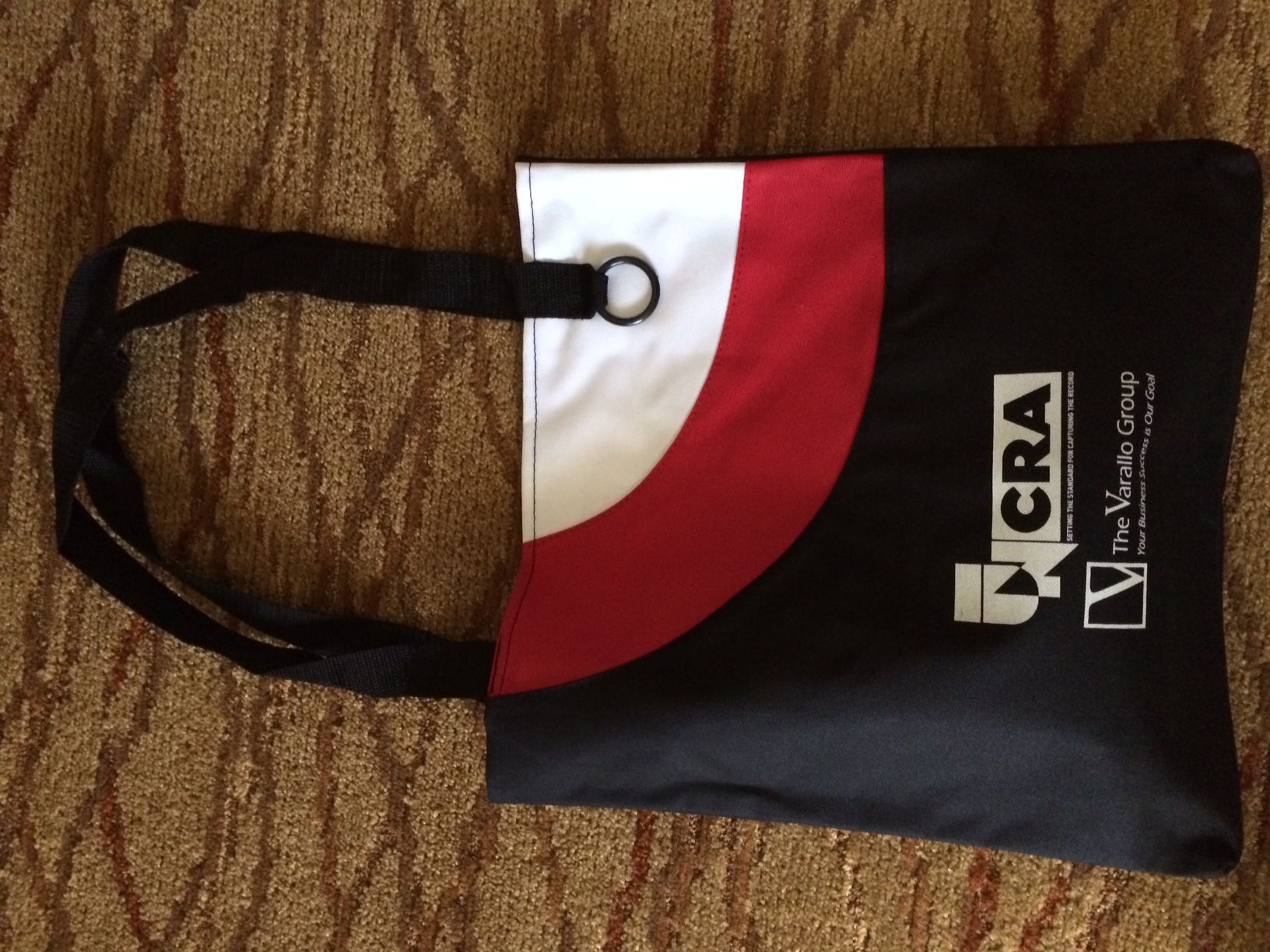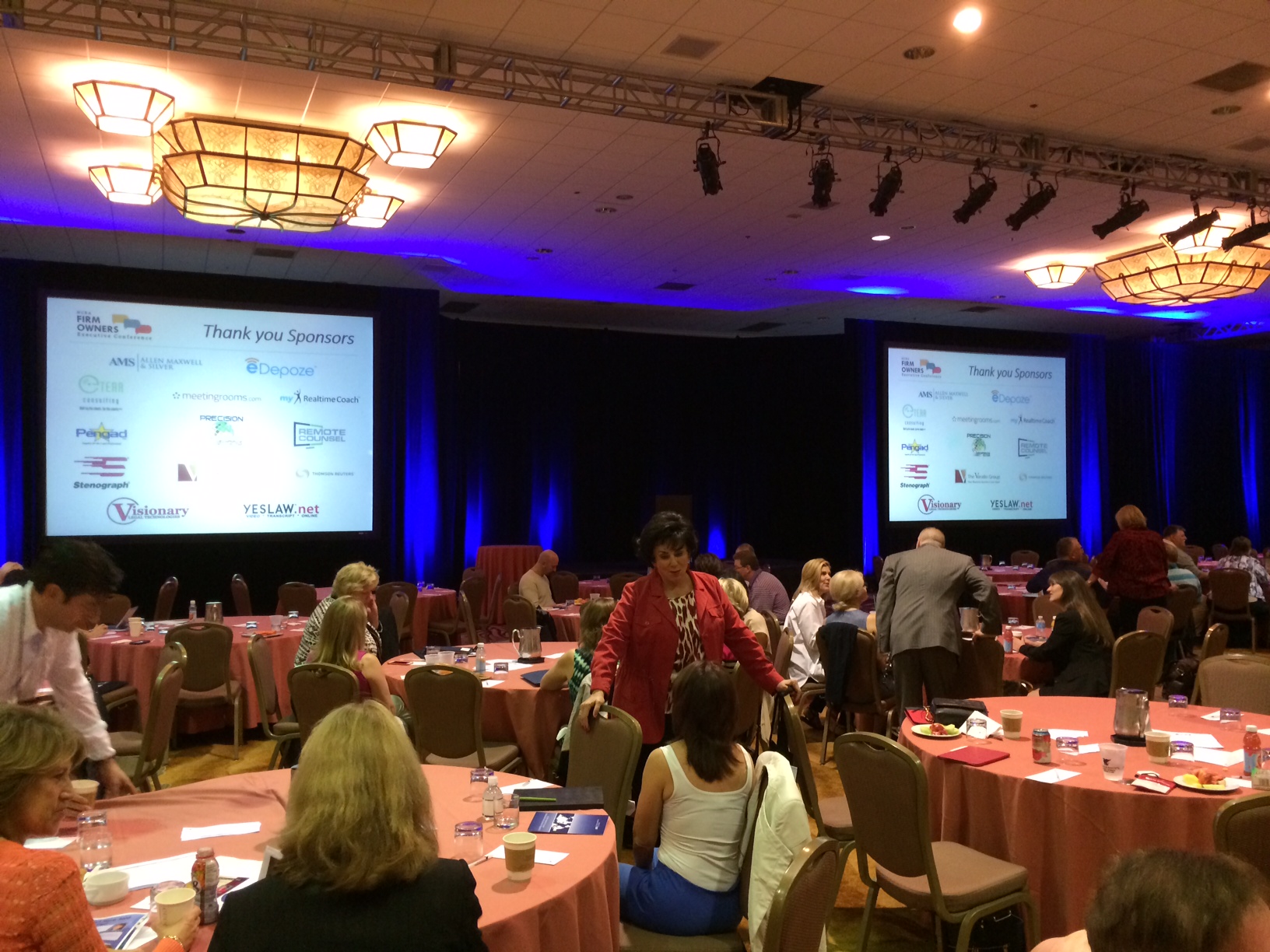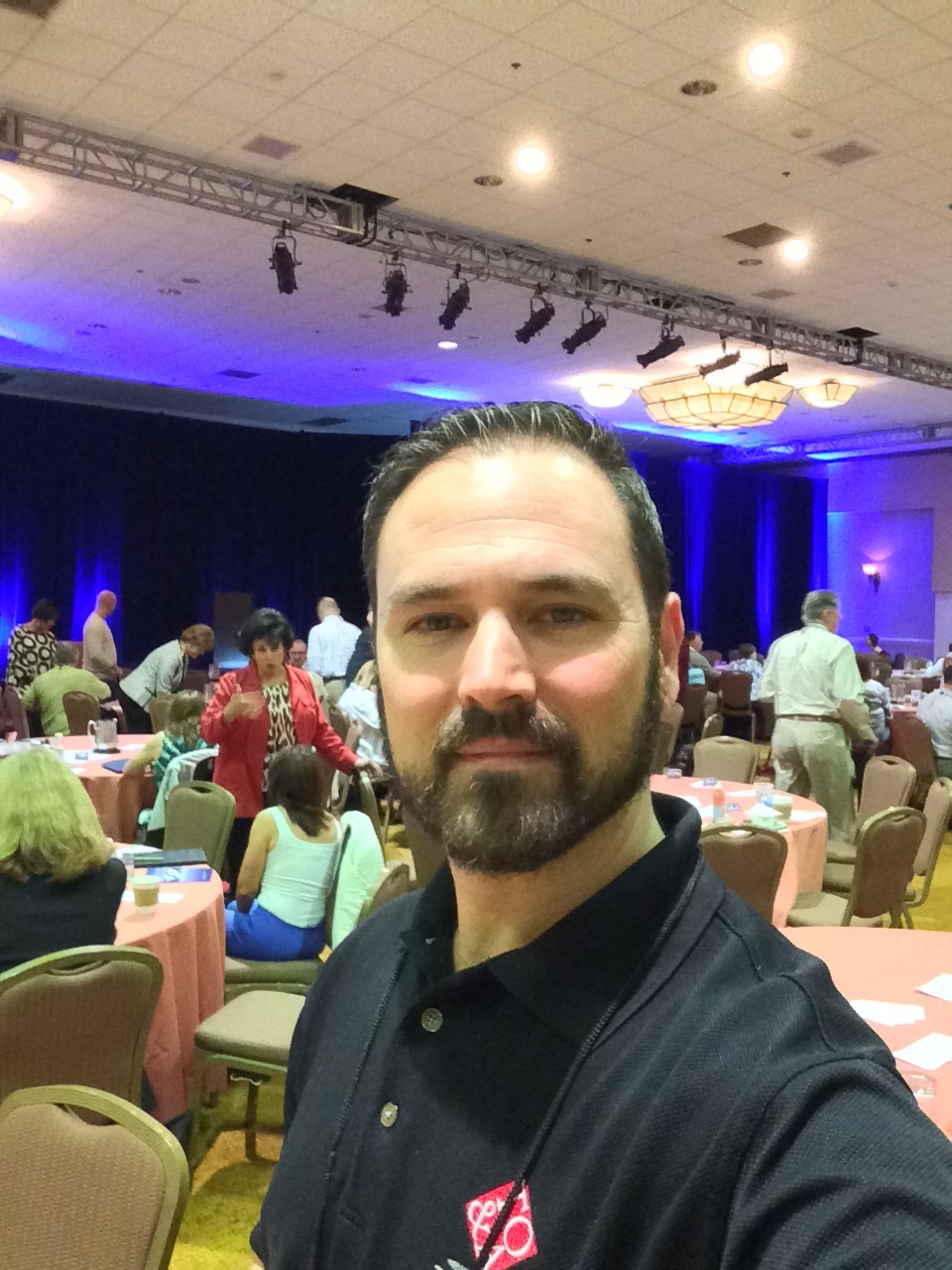 (Todd Olivas and his beard.)

Basically, help others first and your own help will follow after that. I liked Sarah's style and her own stories of NetWORTHing. In one example she told us -- very candidly -- about having to undergo MRI tests in exploration of a lump. The results were going to take several days or a week to get back from the lab but Sarah was able to massage her list of contacts -- consisting of folks she had helped in various ways in the past -- and miraculously link together a six-degrees-of-Kevin-Bacon style chain of people to be able to reach a certain doctor who in turn knew another doctor who then expedited the test results.

To me that's awesome. How many of us hit a bump in the road or a dead-end and just passively wait for what's next? Embarrasingly, I have done that far too many times. So at this conference, I was reminded by Sarah's stories about being more proactive with circumstance and actually getting creative with my contact and relationships in order to potentially steer situations better in the future.

So without bragging, there was this one time... I was having web server issues over a weekend last year. And by "server issues" I mean the server was dead and not coming back to life. I tried calling my host company's tech "support" line and got expelled to voicemail prison. And when I eventually got to speak to a human being, he was not necessarily an A-level, the-Kobe-Bryant-of-IT kinda human being. He was like the assistant to the assistant of the intern's temp who was authorized only to say he was not authorized to do anything remotely akin to support.

But my website was down which means for all intents and purposes, my business was down. Even on a weekend, my staff and I use our intranent and, of course, clients login to view their transcripts, etc. So this was a big deal. So what did I do? I got desparate and went Twitter postal. I researched who the CEO was of my host company and I found his Twitter name and I started tweeting to him on a Saturday morning about 8:00 a.m. Now this is a very, very, very large hosting company with 50,000 customers worldwide and I was tweeting to the CEO on a Saturday morning. And you know what? It worked. I would guestimate that within literally 15 minutes the CEO tweets back to me that he has a) read my tweet and b) is looking into the situation personally and c) will get me a response asap.

Short story long, withn an hour I had their IT guru ninja calling me on my cell phone on his way in -- on his day off! -- to figure out my server problem. He works all day on my problem which includes rebuilding me a brand new server from scratch and by the end of the day my site is resurrected and I'm back in business. I thanked and praised the CEO and his company publicly on both Twitter and Facebook. And I know that's not exactly the kind of NetWORTHing that Sarah Michel is talking about but I had to tell you the story anyway because privately I was kinda proud of my own assertiveness that day.

Back to the NCRA Firm's Owner's Conference...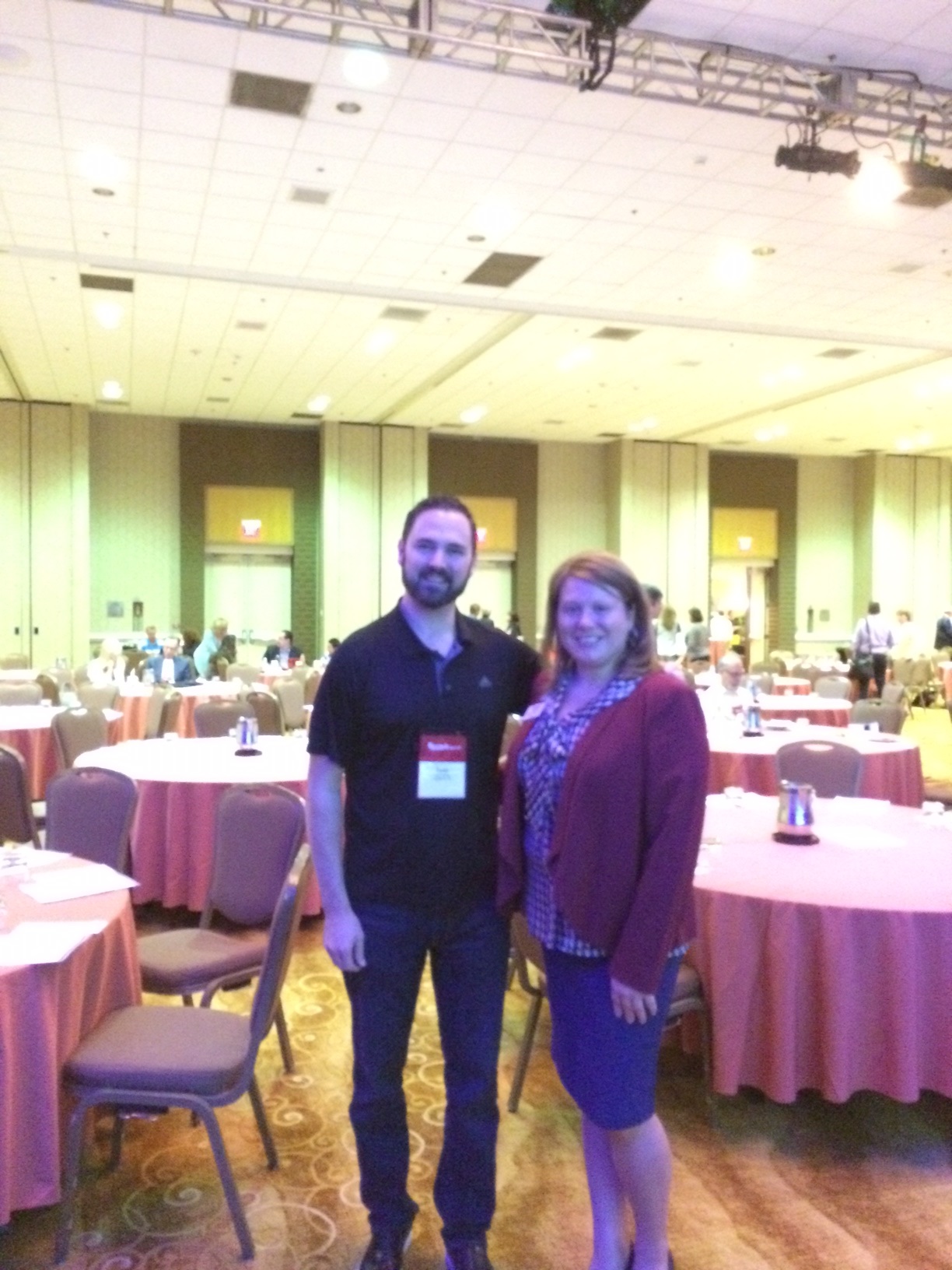 (Todd Olivas and NCRA President Sarah Nageotte)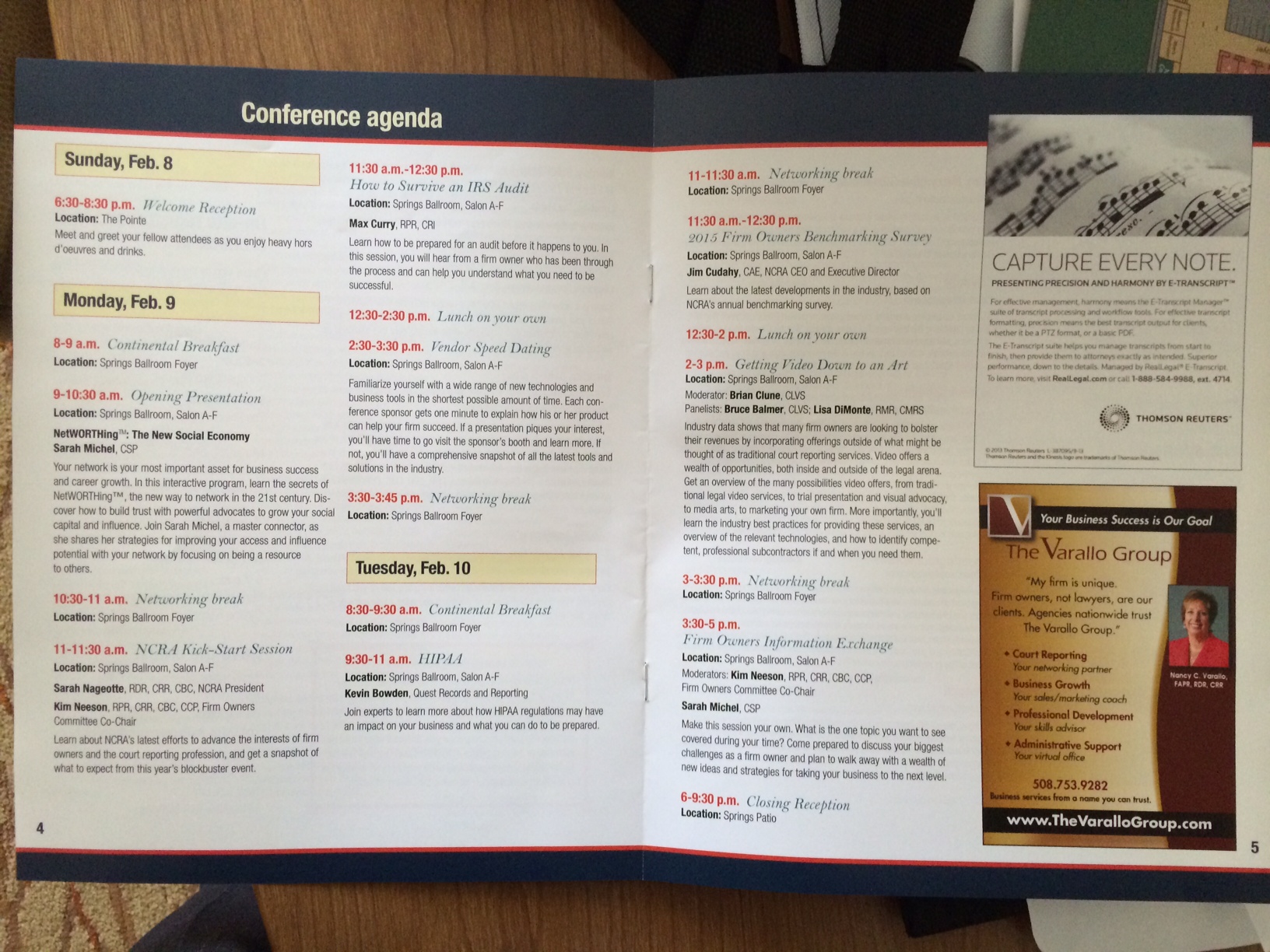 Over the course of the conference there were some great presentations. My favorite was the one given about surviving an IRS audit. As readers of this blog may or may not know, I am currently under audit by the EDD. I plan to write about my experiences as is appropriate. Currently it is premature to be blogging about that topic in any detail. Still, the IRS audit info that Max Curry gave was helpful and I learned a couple tidbits. One is that in notating meal receipts, it's important to include not only which client it was for, who the parties were who attended but also what topics were discussed. So in the future I've got three pieces of information that are important to include on these receipts:



Who:
ABC Law Firm


People:
John Smith, Jane Doe and myself attended


Discussed:
Transcript turn-around times, a large case they have coming up, getting ready for the annual golf tournament that I might sponsor, etc...

It was a great convention -- albeit my first one of this kind wherein only firm owners were in attendance -- and I would recommend it to all of my peers (and competitors). Speaking to that point -- the point of meeting face to face with your competitors -- I really didn't feel any competitive vibes from anyone. Quite the opposite. Everyone was in a sharing, open kind of mood and if you were ever considering coming to one of these events (firm owners, I'm talking to you) I would recommend not hestitating to come to this one.

Until next time!

Thursday, February 12, 2015