6 Things You Must Know In Comp for 2020
Each year we host TOA University -- an all-day conference for the Workers' Comp industry. This year's pirate-themed event was held on March 6, 2020 had some great information that we wanted to put in your hands, whether you attended or not. This ebook is your summary which can be downloaded here.

Please enjoy!

~Todd Olivas



---
Hello!
THIS WEEK WE'VE PUT TOGETHER SOMETHING VERY COOL!
😎
Sorry for the caps, but educating yourself about what's going on in California Workers' Comp is cool and has not been put on hold!
Are you aware of all the changes in 2020?
Right now is a great time to catch up.
Download our free ebook 6 Things You Must Know in Comp for 2020 to learn about:
- Emerging trends at the WCAB
- The Hijacking of 132A
- A guide to successful fraud prosecution
- Case law update
- Obesity in Workers' Comp
- Remote depositions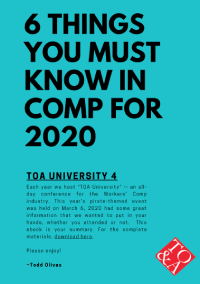 Why is a court reporting agency putting out a WCAB ebook?
Because we throw a large Comp conference each year called TOA University. Not everyone could make it... so we put together this recap ebook as a cheat sheet to this year's presentations.
Watch the highlight video.
Enjoy the ebook, here's the link again:
https://bit.ly/6CompThingsIn2020
Please stay safe and healthy!
~ Todd Olivas
P.S. There are 3 other ways you can stay progressing and networking during these tough times:
1.
Learn about remote depositions
as the new normal. Did you know your Applicant depos can still go forward legally, safely and from anywhere?
Download the guide: https://bit.ly/RemoteDepoGuide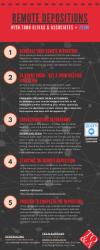 2.
Subscribe
to our podcast TOA Storytellers to listen to interviews with luminaries in the Workers' Comp field.
3.
Join
our Virtual Trivia Game Night! This Friday 4/24/2020 from 6:00 - 7:30 p.m. Co-hosted w/ Angel Guerra-Chagolla's The Pro Firm. Win prizes!
Tuesday, April 21, 2020