Court Reporting Marketing. My Tale

Even from my earliest days as a court reporting agency (opened my doors in 2003), I knew full well that the only way to succeed would be if I was willing to spend lots of time marketing to potential clients face-to-face. I made the decision to perform fewer of the actual depositions myself and move more into a management and marketing role. I would spend every Monday, Wednesday and Friday on the road. I can tell you that I made many, many, many pit stops at Costco and Sam's Club. I know the very best cookies to buy if you want to impress an office. (It's the sugar cookie kind that come with frosting. To die for.)

My the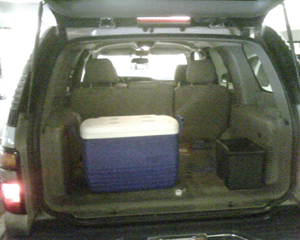 ory has always been that if you can get a law firm eating with you, it's much easier to get them to try out your services. I think over the years I have passed out millions of cookies, going by that theory. (I think my theory is at least partly responsible for why I weigh 200 lbs now instead of my usual 190ish!)

Moving on.

This past year, with management duties keeping me docked in the office more and more, I haven't been able to get out there as much as I would like. What was once a 2 - 3 time-per-week ritual, is now about once per week.Today, in my court reporting marketing efforts, I visited several firms in the Riverside, California area as well as some Orange County ones. (Not telling which ones!) These pictures to the right were taken by me with my very high quality camera phone. :) The first one is my loaded up vehicle with a cooler full of Morika' Southern Delight aka Cupcakes Gone Wild (http://www.cupcakesgonewild.com) cheesecake cupcakes. Isn't that just the best name in the world!

I mentioned the Costco cookies were good. Morika's cheesecakes are like crack for law firms. They scarf them down and usually beat down my doors for more. So much so, in fact, that I am half sad that I'm not in the catering business. LOL.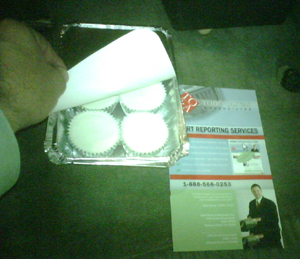 Friday, September 21, 2007