Court Reporting: Vast Career Potential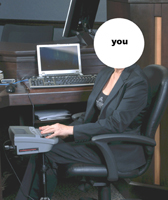 Court reporting is an essential occupation in the justice system. Often taken for granted by other participants in proceedings, the role is an important one. A court reporter has the responsibility to record audio or speech into writing. Court reporting makes use of a number of different methods to achieve this responsibility. Most court reporters characteristically use a stenographic machine.

Court reporters are necessary at most, if not all, court proceedings in North American courts. Depositions, criminal or civil court proceedings, and other official proceedings all require the presence of a court reporter, typically a notary public, to take precise account of the verbal activity.

Training for a Court Reporter

Becoming a court reporter requires two to four years of education and training. Typing speed is vital, as most court reporters need to work at 225 words per minute or higher. Precision is key, too. Prospective court reporters must qualify to meet standards set by the National Court Reporters Association (NCRA). The NCRA requires court reporters attend specialized certificate or degree programs at accredited colleges or universities.

After training, court reporters must continue their practical education. Some states in America require court reporters to be notary publics. Court reporters can attain a number of additional specializations if they wish to expand their resume and add more integrity to their services.

Many courts recognize various other titles, such as:
Certified Court Reporter (CCR)
Registered Professional Reporter (RPR)
Certified Real-time Reporter (CRR)
Along with these titles, prospective court reporters expand their resume through a number of other ways, each encompassing several requirements that epitomize the ideal candidate. Excellent command of language, the ability to focus for long periods of time, and attention to detail are all important facets of the ideal court reporter.
Working as a Court Reporter
Once training is complete, there are a number of ways to get into court reporting as a full-time career. For the most part, a court reporter either works as a freelancer or as a court agency employed worker. Freelancers work for themselves or for court reporting agencies as independent contractors, whereas a court reporter that works for a court agency answers strictly to said agency.Court reporters employed by an agency have a certain stake in the general procedure of their occupation. They often make suggestions requiring suitable practical process and research for the agency on items of official record.
Some court reporters employed by different agencies provide other similar services, such as closed-captioning services. As a result, working as a court reporter is a smart occupation that offers virtually immeasurable potential for a lengthy, varied and prolific career.
Tuesday, May 15, 2007