Eat Drink And Sleep Steno
So I'm taking a walk down memory lane about my career in the field of court reporting. I've collected some interesting mementos and snapshots. I decided to post some of them for you on today's blog.
The Steno Toast
This toast is not intended for consumption. This is a photo of my decade-old toasted piece of toast said to hold an image of a steno keyboard. In 1997 I was about to take a bite out of it and saw the court reporting keyboard staring back at me.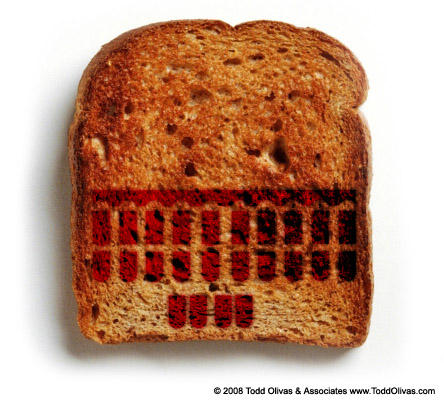 I can neither confirm nor deny that The Steno Toast holds mystical powers. I can say that I have done little to preserve The Toast save for keeping it in a sandwich baggie -- for 10 long years -- but it doesn't crumble apart or deteriorate or cry. I've decided to show the world -- now for a limited time -- The Steno Toast. I believe that in America everybody has the right to learn of it and experience its mystical powers for themselves.
I really don't care to comment further about that except to say if this artifact is indeed a slice of stenographic pop culture -- which it is -- and if an internet casino would be willing to purchase it for their world tour -- which it may -- I'd be willing to sell. Otherwise, I'm thinking of auctioning it on eBay. Not sure the asking price. Could be some serious bread.
The Tortilla Whisperer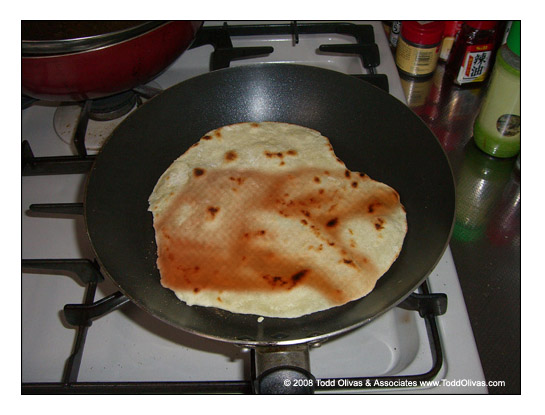 Closely associated to the Steno Toast -- and in the bread family, I suppose -- is the Steno Tortilla. If you stare long enough at the Steno Tortilla you will notice the unmistakable image of a steno machine with two hands typing.
This phenomenon occurred soon after embarking on my court reporting studies roughly in 1993 or 1994 around dinner time. It seemed like everywhere I went I saw court reporting related items. I thought it was merely my imagination. Capturing this image on the Steno Tortilla, however, confirmed my suspicions. I considered it a sign that I was heading in the right direction. It was like somebody whispered, "Hey, you're heading in the right direction." Plus, "Eat a tortilla." I listened to the Tortilla Whisperer to the extent of following my dreams of becoming a court reporter and agency owner. I left the Tortilla uneaten, however. It is now in a frame above my diploma.
Sleeping With The Enemy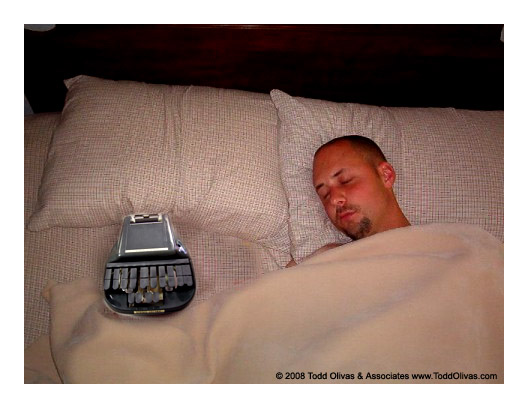 Shhhhhhh. Court reporter at rest. It's not me but the above photo is of a tuckered out court reporter. Similar to this guy, I began court reporting school in 1993 and I personally count my experiences in school as some of my most cherished memories right up there with my daughter being born and my last tax refund. During those days, I ate, drank and slept steno. At night I dreamt of P-A-T and S-A-L like they were my two buddies.
Not in a weird way.
I made it through theory and then 60s, 70s, 80s, 90s, 100s. I just kind of plodded along. I was NO natural. Turns out, I'm not really "a natural" at anything. Everything that I've been able to accomplish -- in court reporting, in business, in Nintendo PlayStation -- was not because of some innate talent or natural ability but because I stuck with it and never gave up. And I worked hard and learned – over time -- how to work smart. I feel like repeating my favorite phrase right now: "If Todd can, anyone can!" (Hey, there's an idea for another Steno T-Shirt!)
My Favorite Teacher Of All Time - Mr. Rusty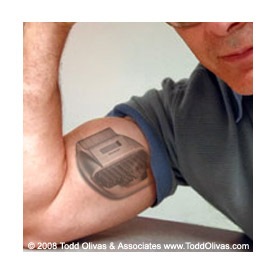 Everybody has a formative teacher or mentor or two; right? Mine was Mr. Rusty. He taught theory as well as Professional Practices. He was a good arm wrestler too. Because of Mr. Rusty I learned the value of forming a good foundation of theory, studying hard and also how to perform the hook and toproll -- two critical arm wrestling techniques.

Mr. Rusty also encouraged the use of tattoos as motivation to get through school. His logic went something this: If you have a tattoo of a steno machine on your arm, you are less likely to drop out. I can't argue with the sentiment, though I stopped short of getting inked. ;)
For Those Long Deposition Sessions - The Court Reporter's Drinking Buddy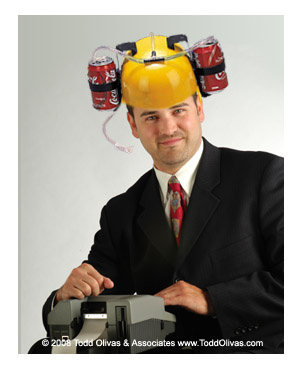 There are times when the testimony is just too good, when the attorneys are just too interesting to ask for a break. Who cares if you're thirsty when everyone important has already helped themselves to coffee and water and self-satisfaction. For the parched court reporter, we introduce the Court Reporter's Drinking Buddy:
Holds two (2) cans of beverage!!

Fits snugly around your head. Suppresses headaches!!

Chin snaps are velvety smooth! Suppresses back talk to rude attorneys!!

Comes in attractive yellow and red!!

No-drip hose uses hamster bottle technology!!
The Court Reporter's Bathroom Buddy - Sold separately
Thursday, March 20, 2008