Gallery Of Court Reporting Related License Plates
Ever seen a court reporting related license plate on the road? Or better yet, do you personally own a vehicle with a court reporting vanity plate? Please send a photo to licenseplates (at) toddolivas (dot) com and we will post a gallery of the best ones out there. STENO LOVER is the first one that I personally found while visiting a court reporting school in Southern California.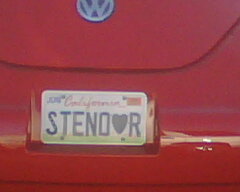 Send me snapshot of your steno plates!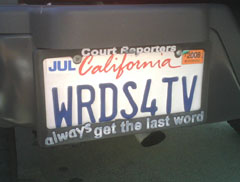 Monday, October 22, 2007