How I Got To Be #1 In Google
I know this is a court reporting centric website. You're here to find out about court reporting stuff. And we definitely have that in spades with our court reporting articles, court reporting quizzes, and let's not forget the plethora of deposition conference suites available around the country. Some of the most popular pages on my website are the deadline calculator and the Slasher 1.0 court reporting teacher's tool. And just for fun: The World's Funniest Court Reporting Videos.

As a by-product of so much great court reporting content, my website now ranks No. 1 (meaning on the first page that Google displays) for many keywords including the hyper-competitive court reporter and court reporting terms.

How Did I Get To Be On Page #1 In Google?
Good question. Lots of answers. But since this is a court reporting website and not related to SEO (Search Engine Optimization) or SEM (Search Engine Marketing), I thought I'd take the temperature of my blog readers before delving into this realm. Anybody care about how I've done it? Leave a comment on this blog and if the interest level is high enough, I will write more.Until then, check out these two screenshots that I just took today -- Halloween, 2007. I'm as pleased as punch that out of the millions of potential websites (2,790,000 to be exact) -- I rank in the top 10! When you search for the term court reporter in Google...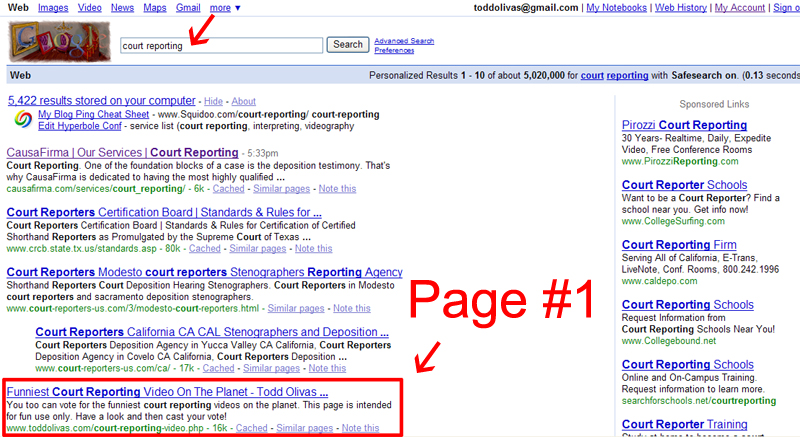 And then this one for the term court reporting...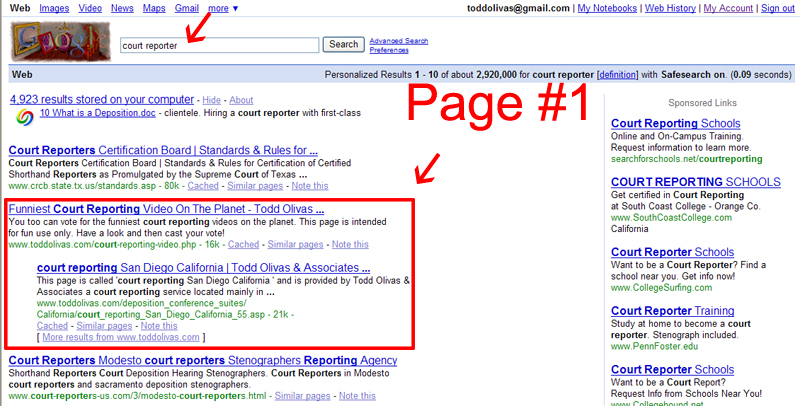 Wednesday, October 31, 2007