How To Know If Google Knows You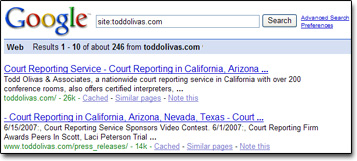 Google's Got My Number
My main court reporting website http://www.ToddOlivas.com is indexed by Google 246 times as of today. That means that Google knows about 246 separate pages on my website. This is a good thing. If someone searches for key terms that appear on any of my 246 web pages, Google serves up a link to my page. This is a very, very good thing indeed!

Two Rules Of Thumb If Your Law Firm Wants To Grow Its Business These Days...
Rule #1 Get listed in Google.
Rule #2 See Rule #1
How To Check To See If Google Likes You

Here's a quick tip to see if your website is indexed by Google. This trick will work for any website and it's a good way to make sure that you law firm's wesbite is included in Google's database.
Go to http://www.Google.com
Type in the following: site:yourwebsite.com (exchange the words yourwebsite for your own website name)
Example: If I wanted to check my website, I would type in site:toddolivas.com
Click search
If your website is in Google, all of the instances where it has a page reference will come up. If your website is not in the Google database, time to get to work submitting it to them. (More on that later.)


A Value Addition To Your Law Firm

I write often on this blog about bringing more value to your position as a paralegal or legal secretary. My theory is more value equals more pay. Little tricks like these can help you become more well-rounded when it comes to the internet. For example: who knows, maybe your boss's website is not being found by Google and by your running the procedure above you bring the crisis to his/her attention? And by bringing the problem to light, you set the fire alarm off in the minds of the higher-ups and they get crackin' on getting the firm's website optimized and listed in the search engines.; which brings in more business; which makes your job at the firm ever more secure!
Now that's a value add if I ever saw one!
Wednesday, August 1, 2007