My Experience At Downey Court Reporting

I did a speech yesterday. It was my usual -- How To Get Out Of School With Your Sanity Intact! I was completely blown away by the level of hospitality that Cindy Grafton the court reporting Program Coordinator showed me. She and her staff at http://courtreportingdvds.com/About_DAS_courtreporting.html were just so incredibly nice. And that students seemed to really enjoy my speech. All of the Speaker Evals that I got back were very positive. Many of them wrote that my speech should be longer than it was. Longer, I tell you! I currently do about 30 minutes and then we have 10 - 15 minutes of Q & A. My experience has been that leaving them wanting a little more is far, far better than leaving them wanting less. Believe me, I've done it both ways. (Just ask the kids at Argonaut -- ouch! I think they took naps... I spoke so long. )

The Downey court reporting program seems to be alive and well. They had a full group. Check out the pictures to the right.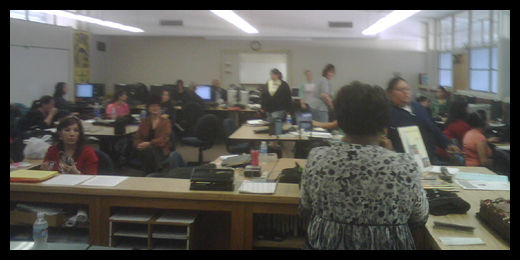 When I got going there were approximately 75 people in attendance. The program as a whole has about 150 court reporting students. The one minor strange thing -- more of a minor inconvenience than anything else -- was that I had to speak from inside that box that you see in the picture. It's sort of a counter top/well area. The part about public speaking I love the most is having a connection with the audience, so the counter top in between me and the students took a little getting used to. But once I got going, I don't think the barrier was a hinderance. At least I hope not! (Next time I'll try standing on top of the counter top. Ha ha. Just kidding Cindy.)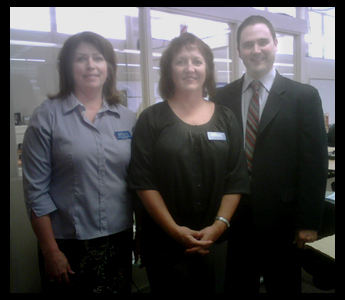 Speaking of Cindy. She is just the nicest person alive. She originally contacted me about coming to her school to speak. Apparently she was sitting next to someone at the last CSR exam and somehow the subject of this Todd who goes around to court reporting schools came up. Well, I'm the infamous Todd :) And she found my website quite easily by searching in Google. (Thank God for Google!)

The picture to the left is (from Left to Right) Susan L. Chiaravalloti, Cindy Grafton, Me. I remember Susan from South Coast College where she was a night teacher -- I believe -- after I had graduated. I know people who know her and she's a terrific court reporting school teacher.My one regret is that I forgot to talk about the court reporting quizzes I have on my site with the students and I also forgot to mention to Susan and Cindy about Slasher 1.0. Oh, well. Next time!
Wednesday, November 14, 2007